It was truly amazing to see Dustin Johnson overcome all sorts of obstacles, dig deep, and win his first major at Oakmont.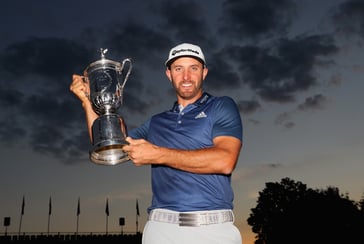 In the week after the US Open, I must have been asked roughly eight million times if I think DJ had discovered some brand-new gear -- some "Beast Mode" -- that was going to let him go undefeated for the rest of the PGA Tour season. And while I told people that I'd like to be able to say "yes," the answer -- to be really honest -- was "no."
I had actually written a blog about that very topic that was about four hours from being posted when, of course, DJ storms back and wins the WGC-Bridgestone Invitational. Since then, the number of times I've been asked about the possibility of him finding some magical new gear has surpassed the 14 million mark. And my answer is still "no." He's been operating in that gear all year long.
Make no mistake about it -- Dustin Johnson is a phenomenal athlete.
Not too many guys can drive a ball 350 yards AND dunk a basketball. The way he's built -- tall with long limbs -- also makes him more mechanically predisposed to be a golfer than most people are. That said, I don't think there are many -- if any -- other players on Tour that have worked as hard off-the-course as he has this season.
We've been working on his body six days a week.
And a lot of those days have consisted of more than one workout. Physically, this is the best I've ever seen him. Of course, when you get to an event, they don't just hand a seven-figure check and the hardware to the guy who's in the best shape.
If you haven't figured it out by now, golf is very dependent on luck.
A perfect approach shot might clang off the flagstick and wind up off the green while a nightmare of an approach shot might clank off a cart path and land within inches of the hole. A single blade of grass might lose its structural integrity, cause a ball to move a millimeter while you're standing above it lining up a putt, and cost you a stroke. Or the number one player in the world might uncharacteristically shoot four-over over the last four holes on a Sunday afternoon. Things happen that are completely out of your control.
In golf -- as in life -- all you can do is work hard, stay focused on your goals, and try to up the odds in your favor.
At the end of the day, though, luck is going to factor into things somehow. A lot of the time, though, the harder you work, the luckier you can get. Dustin Johnson has put his body into the best possible condition for what he needs it to do. And after eight top-ten finishes already this season, the fickle Gods of Golf have finally started drawing his number.
© 2016 joeydgolf.com