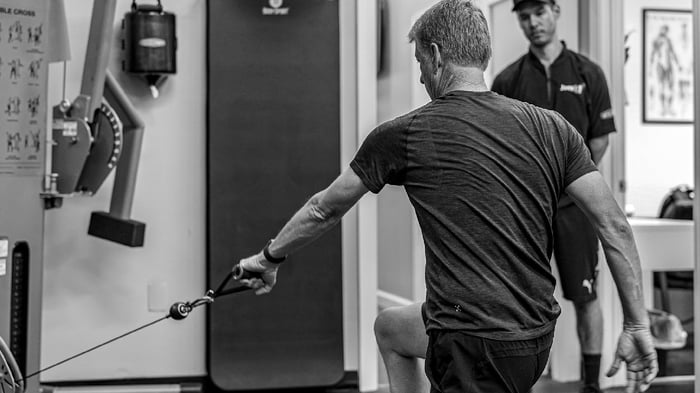 Adrian Reed came to the Joey D Golf Sports Training Center about three months ago with some back issues, which kept him from playing his best golf. Coach Travis Lampton was quickly able to recognize that Adrian had some postural issues that were impacting his game. And this was just the beginning.
Coach Travis had Adrian working on three key areas from day one: pelvic positioning, keeping his core engaged, and working to eliminate low back pain. Over the last three months, Adrian has worked on golf biomechanics exercises specific to what his body needed and he was able to correct his golf posture. Before doing so, he was constantly trying to create swing patterns that were only harming his golf game and his body.
Golf Exercises Specific for Your Body
We're able to figure out the proper movements for each athlete by putting them through an elaborate full-body fitness assessment. We check things such as balance and stability, range of motion and flexibility, and strength/power. Not all bodies are the same, so requirements and workouts look different for each individual athlete.
This is why we love what we do. We see improvements not only from our professionals, but also from our junior players, our senior players, our club champions, and everyone in between. That's what makes this place so special!
We watch golfers of all ages and abilities become the best versions of themselves…and that's pretty spectacular if you ask us!
So Where Is Adrian Now?
Adrian is now stronger than ever, feeling great, and playing some amazing golf. Here's Coach Travis and Adrian so you can see for yourself what a difference Joey D Golf has made in his life and his golf game!

Adrian trusted the process and is watching it change his life for the better. He is now working out harder, swinging freely with good body movement and swing patterns, and getting stronger thanks to a lot of hard work, determination, and guidance from Coach Travis. We have the keys to success no matter where you are on your golf and fitness journey. All athletes and aspiring athletes are welcome here at The Stable. So, when you're ready, we're ready! Let's get to work!!
For more information on how you can get started working with us visit our website at www.joeydgolf.com or email us at info@joeydgolf.com.
© Updated 2021 joeydgolf.com